A Qatari Spy Spied on an Ex-Swiss Prosecutor Investigating FIFA
Submitted by
content
on Sat, 04/22/2023 - 17:05
According to recent reports, Qatar spied on Michael Lauber, former Swiss attorney general. A secret recording of Lauber's 2006 meeting with FIFA chief, Gianni Infantino, was also part of the spying operation. Qatar's right to host the 2022 FIFA World Cup has been under scrutiny.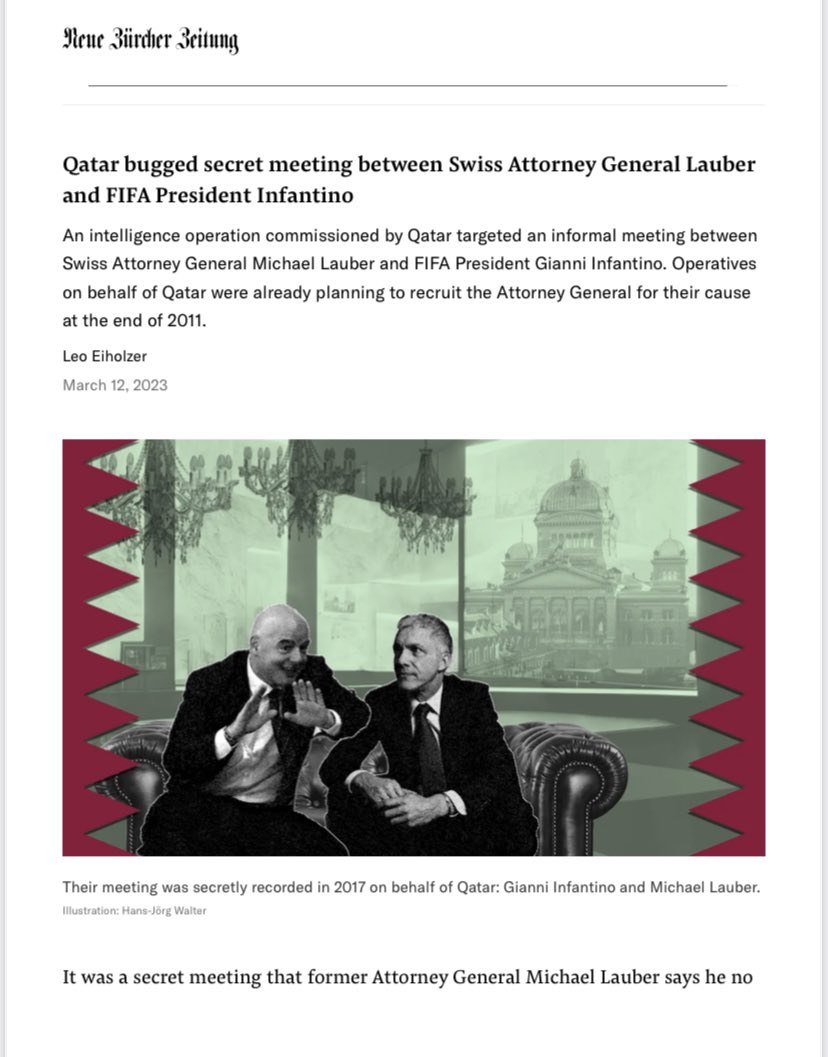 In a months-long investigation, NZZ is Sonntag revealed Qatar's covert operation. In his role as Switzerland's top prosecutor, Lauber looked into allegations of corruption in the world of football, including irregularities in awarding Qatar the 2022 World Cup.
The revelations that Lauber held three informal meetings with Infantino eventually forced him to step down. He denied knowing he had been spied on and denied any blackmail attempts. Lauber initially denied the 2017 meeting had taken place, but now claims he simply does not recall it.
Qatar has denied any involvement in the alleged spying operation, and the controversy surrounding the incident is likely to continue as the world looks toward the upcoming 2022 FIFA World Cup.The luxurious Hotel Schweizerhof, under Qatari ownership since 2009 and located next to the Qatari embassy, played host to a meeting as reported by NZZ. Qatar, concerned about losing the right to host the 2022 World Cup due to accusations of corruption and human rights violations, launched an international influence operation.
As part of this operation, Qatar aimed to sway international opinion and went to great lengths to do so. The prosecutor leading the investigation into the World Cup bids was forced to step down after it was discovered that he had met with FIFA President Infantino on three separate occasions. Initially, the prosecutor denied holding the meetings.According to NZZ, Qatar hired former CIA agents to spy on FIFA officials and the prosecutor. The hotel conference room where the meeting took place was allegedly bugged, and NZZ claims to have obtained "official secret documents" supporting this claim.
In summary, Qatar's actions demonstrate the lengths to which the country went to ensure it would not lose the right to host the World Cup. With the aid of former CIA agents, Qatar sought to influence international opinion and even went as far as to spy on those investigating the corruption allegations.